BCSD Superintendent Updates
Superintendent Blog Post - January 11, 2019
Posted by Victoria Jackson on 1/11/2019
Superintendent Blog Post - January 11, 2019
After winter break, we always focus on budget development and adoption. While budgeting is truly a year-round process, we put a very clear focus on developing next year's budget during the next few weeks and months. Below is our budget calendar with the Board of Education. At each of those meetings, department heads, principals, or other administrators will present their budget initiatives to the board for discussion. Missing from the calendar below are community and PTO forums that I will host in February-May to discuss our strategic planning process and budget development. I will have those dates worked out by next month. If you have any questions about this process, please let me know. I am very excited to help develop a budget that supports all of our children.
Board of Education Budget Calendar for 2019-2020 Budget Adoption
| | |
| --- | --- |
| January 14, 2019 | General Overview |
| January 28, 2019 | Athletics |
| February 11, 2019 | Technology |
| February 25, 2019 | Transportation |
| March 11, 2019 | Facilities & Operations |
| March 25, 2019 | Special Education, Instructional, and Professional Development |
| April 8, 2019 | Presentation of the Budget |
| April 23, 2019 | Budget Adoption |
| May 13, 2019 | Budget Hearing |
| May 21, 2019 | Budget Vote |

ThoughtExchange for Strategic Planning
There are still four days left to participate in the ThoughtExchange. Here is the link to participate:
https://my.thoughtexchange.com/#258626618/ . You can jump in and rate some ideas or put an idea of your own. The Strategic Planning Committee will be reviewing all of the information at our retreat on January 18th. Thank you for your help and participation.
Star Student - JVF - James Reyes
James is being recognized for his actions that reflect compassion, kindness, and inclusivity. James is consistently including others and making them feel comfortable. On a regular basis, James will include students who integrate into 3rd grade class specials. James will lend a helping hand during P.E., he will compliment children when they do something well. He will encourage those who need some extra support. He will go out of his way to invite others to play with him and his friends at recess. James is a shining example of a kind and compassionate student!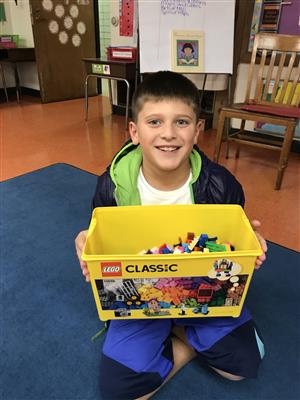 Employee Recognition
Tracy Gida is Sargent's Math Teacher Assistant for 13 years. She started 18 years ago as a Teacher Assistant at JVF working in several various classrooms. In addition to her Teacher Assistant work, she also leads Sargent's Student Council. Our students do a great deal of community service for Sargent and our community. These activities include Cards for Veterans at Christmas and Valentine's Day, a winter and spring food drive and coat drive, a give back to a Sargent classroom (this year it is our music room), an Earth Day clean up, Fill the Back Pack and Fill the Stocking as well as running our school store. Ms. Gida described what she enjoys most about her work with Sargent students, "I enjoy watching kids grow and excel and seeing them get excited about learning and giving back to their community and Sargent. It is very rewarding."