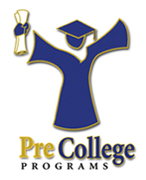 Your students can get a head start on the college experience in one of University of California, Irvine's summer programs focused on hands-on learning in everything from medicine, and university research to game science, and the arts. Explore our in-person and online programs below.




Programs With Housing

UCI welcomes students to experience the dorm life while also learning from world-renowned faculty in one of our summer programs with optional on-campus housing.

UCI's Gifted and Talented Institute (UCI x GATI)

Students currently in grades 8 - 12 are invited to apply for this unique opportunity to work in state-of-the-art research facilities and get hands-on demonstrations of advanced lab techniques. All students selected to the program will have the rare chance to work closely with and be mentored by faculty and experts who are leaders and top authorities in their fields. Students can apply to one of the following research discipline programs:

Health and Science Enrichment Programs

Learn how to apply academic discipline to patient care and technological advancements in medicine through hands-on workshops, research, and team projects led by UCI's School of Medicine faculty. Learn more.

Summer Tech Camps

At iD Tech, kids and teens of all skill levels discover coding, AI, machine learning, film, robotics, and game design, developing the in-demand skills needed to compete at top Irvine area companies like Google, Blizzard (one of the nation's top video game studios), and Toshiba. Learn more.


Daytime Programs

Students can participate in the same world-class education and extracurricular opportunities, but often on half-day schedules which leaves plenty of time to explore sunny Orange County while in the area.

UCI Summer Courses

Summer courses are open to high school students who graduating in 2024-2025 and have an unweighted high school GPA of 3.0 or higher in college preparatory classes. They can enroll in pre-approved courses numbered 1-99 without special prerequisites through open enrollment. UCI offers 3 summer sessions starting from June through September.

Anteater Recreation Camps

The UCI Anteater Recreation Summer Camps program, established in 2009, is made up of week-long, ½ day camps designed for children entering 3rd - 9th grade. The camps are specifically designed for teaching the participants to learn basic skills in the areas of the selected specialized camp. Learn more.

CardioStart High School Summer Program

Experience the world of cells and tissue biology beyond the textbook through hands-on benchtop and highly-values research skills. Students will learn how to design and conduct experiments, collect and analyze data, and maintain laboratory records. Learn more.

UCI Writing Project

Our certified and credentialed instructors provide high-quality instruction using research-based best practices to support the development of young readers, writers, mathematicians, and scientists. Learn more.

UCI Sports Camp

Train with and learn from UCI's NCAA Division I coaches and student athletes in a variety of sports. Learn more.

Summer Academies in the Arts

Experience life as an undergraduate arts major, receiving practical and technical instruction in small classes taught by graduate instructors, professionals in the field, and UCI faculty. Learn more.




The University of California is hosting a free virtual event for students, families, and counselors who are interested in learning more about UC admission and our nine undergraduate campuses. The event will take place on Wednesday, March 1, 2023 at 7:00 PM Pacific Standard Time.
REGISTER NOW to save your spot!


Office of Undergraduate Admissions
University of California, Irvine
Irvine, CA 92697

949-824-6703 | admissions.uci.edu
Introducing the 2023 Summer Course

This year's Summer Course, EDUX 9928: Maximize Your Professional Practice is now open for registration! This course is the solution for teachers who spend endless hours in the summer preparing for the upcoming school year.

It really is designed for you!
3 Simple Steps

Create Your To-Do List. Set a goal of what you want to accomplish this summer.
Complete Your Projects and Tasks. Work at your own convenience.
Celebrate Your Success! Meet locally or online with your colleagues and present and share your productivity at a collaborative exit conference.

Complete what YOU feel will make YOU more effective

Complete your hours anytime between May 1- August 31.
Start and finish at your own pace/place.

This self-designed Professional Development is instructor guided and validated to insure school district and university accountability.

Want to Learn more? Visit EDUX 9928: Maximize Your Professional Practice!

Affordable. Accredited. Anytime. Anywhere.
Academically ambitious high school students have an exciting opportunity to complement high school study with Montclair State University coursework. Through this pre-college program, rising juniors and seniors earn transferable college credits, experience the rigors and expectations of college-level classes, learn alongside Montclair State University students and engage in courses taught by University professors on campus or online.

These programs provide young people with opportunities to learn more about their fields of interest, to sample life on a college campus and to meet other students with similar interests and academic ability.

For students entering the 10th, 11th or 12th grade, Brandeis Precollege scholars will engage in the rigors of academics at a world-class university, explore the opportunities and challenges of living on a college campus, and join a vibrant community of people interested and engaged in some of the most pressing issues of our time.

Bucknell Academy Summer Experience is a collaborative residential experience where students are invited to explore the value of a liberal arts perspective in making challenging decisions to improve today's world.