Welcome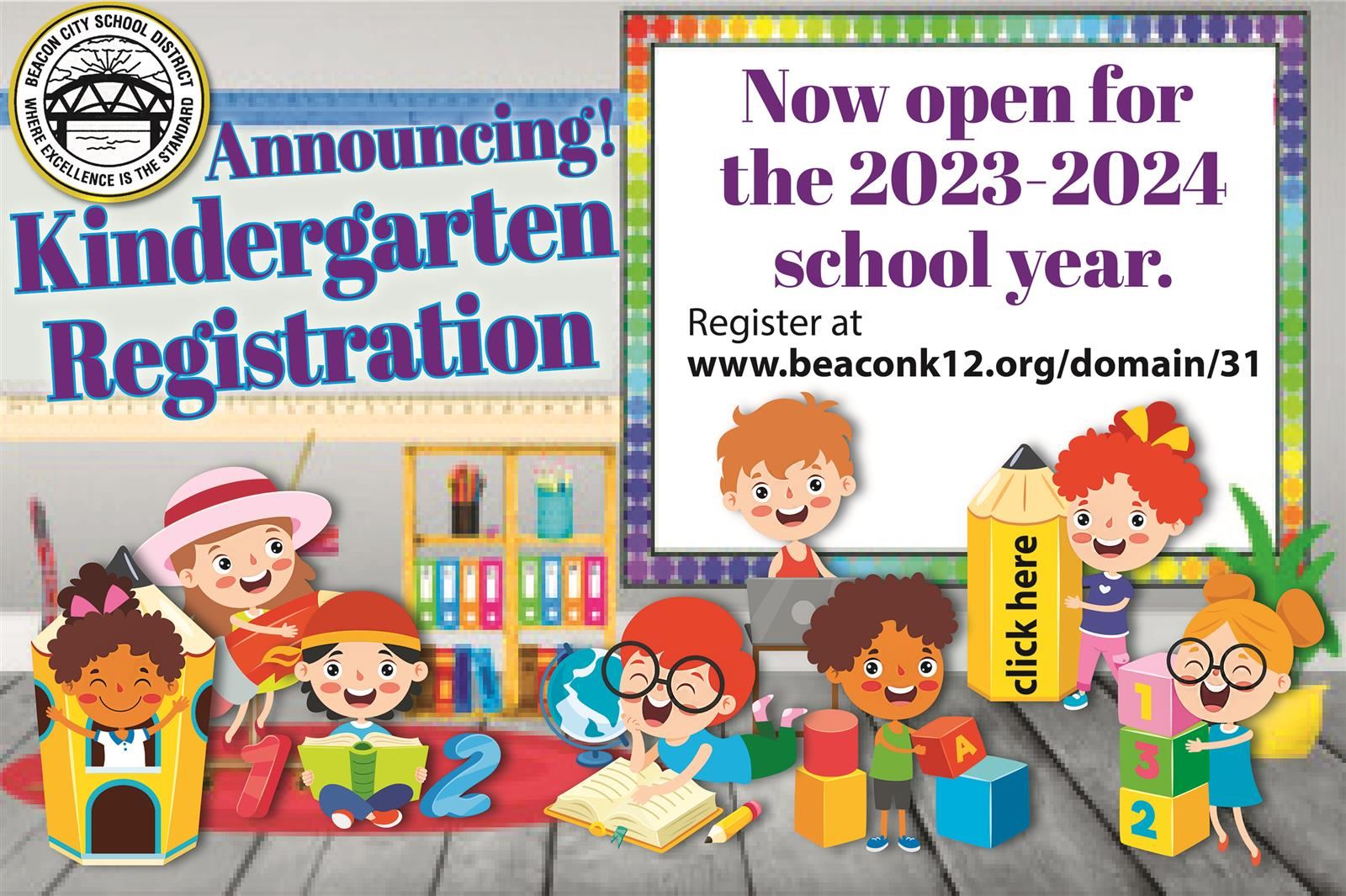 Registrar
Mary Timm, Registrar

Phone: 845-838-6900 x2002
Fax: 845-234-4425
Email: timm.m@beaconk12.org

Student Change of Information:

Any change of address, emergency contact or guardianship/custody change MUST be reported to the District Registrar at the District's Office.

Two new proofs of residency AND a change of information form MUST be presented to the District Registrar in order to have your address on file changed.
What You Need to know
All children need to be 5 years old on or before December 1st, 2023 to register for kindergarten.

The registrar will EMAIL you regarding your registration.

Please have all forms uploaded or printed and ready to go before registering.

Please

wait for the Registrar to contact you

about your registration once completed.

TO REGISTER FOR THE 2023-2024 SCHOOL YEAR: CLICK HERE

PARA INSCRIBIRSE EN EL CURSO ESCOLAR 2023-2024: HAGA CLIC AQUÍ

The following link is not to be used for PreK or Kindergarten for the 23-24 school year.
Documents Required
ONE PROOF OF DATE OF BIRTH

- Original Birth Certificate (with seal of authenticity)

- Passport

- Visa

TWO PROOFS OF RESIDENCY


- Proof of Ownership of House, Condo or Townhome

- Copy of Residential Lease/Rental Agreement

- Property or School Tax Bill

- A Sworn or Unsworn Statement by a Third Party Landlord, Owner or Tenant from whom the Parent Leases or Shares Property

- Pay Stub

- Income Tax Forms

- Utility, Insurance, or Other Bills

- Member Documents based upon Residency (Library Card)

- Voter Registration Documents

- Official Driver's Licence, Learner's Permit or Non-Driver ID

- State or other Government Issued Identification

- Documents issued by Federal, State, or Local Agencies

- Evidence of Custody

*If other documentation is provided, the Residency Officer will review.

IMMUNIZATION RECORDS/LAST PHYSICAL EXAMINATION

- According to New York State Law and the District Policy, Immunization Records should be provided. Also, New York State Education Law requires a Health Certificate to be Furnished for each Student upon Entrance.

CUSTODY PAPERS (IF APPLICABLE)


- In Case of Divorce, Separation, or Legal Guardianship, Please Provide Court Documents Concerning Custody of Child Signed by a Judge (as well as any Restraining Orders Currently in Effect). If no such Court Documents Exist, Please Request and Complete the Affidavit of Legal Guardianship or Custody/Control Forms.

REPORT CARD/OTHER SCHOOL RECORDS

- If the child is transferring from another school district, the last report card and/or previous school records should be provided.

IEP

-If the child has an IEP, a copy should be provided.