BCSD Superintendent Updates
Superintendent Blog Post - January 25, 2019
Posted by Victoria Jackson on 1/25/2019
Superintendent's Blog - January 25, 2019
Kick off to Black History Month- Struggle for Freedom Performance at Beacon High School on January 30th at 6:00.
Bright Star Touring Theatre, a national professional touring theatre company based in Asheville, NC is visiting the area with their heralded production of Struggle for Freedom: The Life of Dr. King. This inspiring production has received nationwide acclaim.
The Bright Star Theatre company will be performing "Struggle for Freedom" on Wednesday, January 30th at 6:00 in the Seeger Theater at Beacon High School. See the description from the website:
Struggle for Freedom is a 45-minute production that seeks to honor the American Civil Rights Movement. The life and work of Dr. Martin L. King, Jr. provides the backdrop to scenes that recreate the Montgomery bus boycott, the March on Washington, the Woolworth Sit-ins and much more. With excerpts of famous speeches, Civil Rights era songs and a variety of characters this moving production has been hailed as one of 'the finest touring shows available for young audiences.'
The Bright Star Theatre group suggests this performance for grades 2 through adult but that is a suggestion. You can check out their website for more info: https://www.brightstartheatre.com/
And best of all, this event is free to the community!
Our Fourth and Fifth grade students will have the opportunity to see Bright Star Touring Theatre perform George Washington Carver & Friends (see below for information about this production) and our Middle School and High School Students will see the Struggle for Freedom performance on January 30, 2019 as follows:
8:00 AM - Beacon High School - Struggle for Freedom
9:45 AM - Glenham and J.V. Forrestal (4th & 5th Grade only) - George Washington Carver & Friends
11:00 AM - Sargent & South Avenue (4th & 5th Grade only) - George Washington Carver & Friends
1:00 PM - Rombout Middle School - Struggle for Freedom
George Washington Carver and Friends gives students a fast-paced and accessible introduction to many influential black Americans who have shaped our nation over the last 150 years. The lives and accomplishments of Booker T. Washington, Jackie Robinson, Thurgood Marshall, Madame C.J. Walker, and other famous leaders are brought to life in this empowering production.
Two-Way Conversations:
We collected a lot of great feedback as we have been developing the Strategic Coherence Plan for the district. One of the pieces of feedback talked about the need for more two-way conversations in the district between district folks and stakeholders. It got me thinking about some things we are doing to increase those conversations and some ideas we will be implementing in a few months.
Strategic Planning Committee: This group was comprised of about 25 staff members, parents, and community members. Over the past few months we analyzed data and discussed focus areas for our district.
Sustainability Committee: This is a new group that meets monthly to discuss ways to make the district more sustainable in terms of resource management and also curriculum implementation. We currently are looking at the Green Schools rubric put out by the U.S. Department of Education and assessing where we are as a district and making some plans for the future. Our next meeting is Wednesday, February 13 at 5:45 at the conference room in the district office.
Wellness Committee: This group created the Wellness Policy that was adopted by the board last year and has been monitoring implementation throughout the district. The date for Fitness Fun Night is March 1, 2019 from 6:00 p.m. - 8:00 p.m. in the Gym at Rombout Middle School
Coming Soon- Building Leadership Teams: In a few months, we will be asking for volunteers to join Building Leadership Teams at each school. Once our Strategic Plan is complete, we will be asking schools to work with their stakeholder groups to develop implementation plans for each school.
We have a ways to go regarding engaging all stakeholders I think we have taken some great steps and I am excited about the ones coming up.
Government Shutdown Affected School Families: If your family income has been impacted by the Government shutdown your children may qualify for Free or Reduced priced meals while your income has been suspended (and will continue for the remainder of the school year) Call us at 845-838-6900 X2012 or fill out a Meal application which is available on the BCSD web site under the Food Services Tab.
Star Student Recognition - Samiha Golden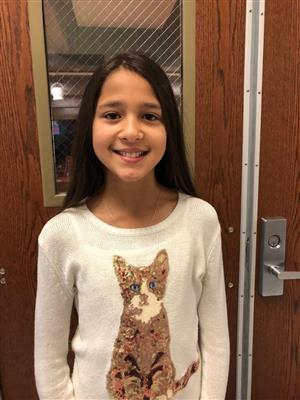 Samiha is a 5th grade student at South Avenue Elementary School. She is an excellent student who is kind and very helpful to all in school. Samiha is a natural born leader. Samiha is involved with our Student Council, which supports events and programs in the school community. She is also a newscaster with our Morning News program and is a member of the Yearbook Committee.
Samiha is also a gifted musician, playing several instruments including piano, flute, recorder and ukulele. She is a member of the South Avenue band and chorus, and was selected to be a participant in the 2019 All-County Chorus.
In addition to her scholarly achievements, Samiha is also involved in activities out of school, including the Compass Arts Rompatom Ensemble and the Vassar MS/HS Choir.
We are very pleased to recognize Samiha as a South Avenue Star Student.
Employee Recognition - Ms. Gall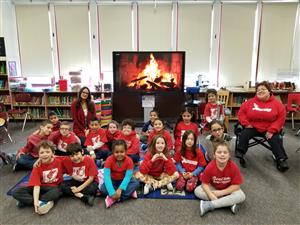 Ms. Gall is a second grade teacher - she is also a co-advisor of Student Council and a member of the JVF Equity Team. Characterized and known as being selfless, caring, and dedicated, Ms. Gall loves her students and demonstrates this on a daily basis. Upon entering her classroom, you are welcomed by the bright smiles of her students, and the vibrant and engaging learning space. Her students are engaged in thoughtfully planned rigorous learning activities and are always eager to share what they are learning! Her classroom community is one that embraces reflection, challenging tasks, and peer collaboration - we are proud that she is a JVF Falcon!