BCSD Superintendent Updates
Superintendent Blog Post - February 8, 2019
Posted by Victoria Jackson on 2/8/2019
Superintendent Blog Post - February 8, 2019
Rescheduling Black History Month Play
Unfortunately we had to reschedule the Bright Star Theatre performance for the community last week due to weather. We are working on rescheduling another play for the community in March. Check back here for details when we get it officially scheduled.
Strategic Planning Update
We have completed creating our mission, belief statements, graduate profile including skills, abilities, and attributes we want to see in all of our students, and are now focusing on developing action plans for strategies. I will be meeting with community groups during the months of March, April, and May to discuss the plan. I am also meeting with student focus groups in all of our schools to discuss the plan and the upcoming budget. I will have my Strategic Plan Community Tour schedule completed in the coming weeks. I am very excited about this work and thanks to all who participated!
From the Wellness Committee
SAVE the DATES:
Fitness Fun Night - The district's wellness committee, in conjunction with BCSD Athletics, is hosting a free event, "Fitness Fun Night" at Rombout Middle School from 6-8PM on March 1, 2019 (Snow Date - March 8, 2019) for students to participate with their families. Varsity teams and local fitness groups will be running sessions for students K-8, and local community organizations will be available with table displays & activities. Many thanks to Ms. Marianne Cerillo, Event Chairperson. For more information: email Mr. John Giametta, Director of Athletics, PE, Health, & Recreation at giametta.j@beaconk12.org
Beacon HS Wellness Fair will be sponsored in conjunction with it's College Fair
When: April 11th 6-8 pm
Where: Beacon High School Main Lobby
Come check out some wellness resources available in our local community. Many thanks to Ms. Diane Tanzi, Wellness Event Chairperson.
For more information: email Ms. Elisa Correa-Soto, Principal at soto.e@beaconk12.org.

Exciting Updates from our Food Services Department
We have a lot of exciting updates happening in the Food Services Department, see below for the details.
New York Thursdays continues with all school meal programming - we are continuing the NY local burger promotion along with school made pickles and toppings.

The menus at all levels will continue featuring the vegetable of the month with recipes incorporating that vegetable at least once in the month.

Beacon High School menus have expanded vegetable offerings with a large number of scratch items each month.

Menus continue to identify scratch items at each grade level.

Menus are available in an on-line app called "mealviewer".

Rombout Middle School had a tasting activity of scratch made Asian noodle bowls and veggie frittatas on January 10 that students participated in by voting on their preferences.

Beacon High School had an Asian tasting menu on February 6 with products being sampled from a new vendor. The vendor offers an antibiotic free chicken product and the sauces are free of MSG, artificial coloring and flavoring Trans fats and peanut free. This tasting helps to determine if this is a product line we will carry next year.

Sargent elementary began using washable silverware on January 14th. J.V. Forrestal is the next school up on using washable silverware, they are working on an implementation plan.

Food Services is also working on a plan to use recyclable trays at BHS.
Sargent Star Student - Ayden Gilleo - 5th Grade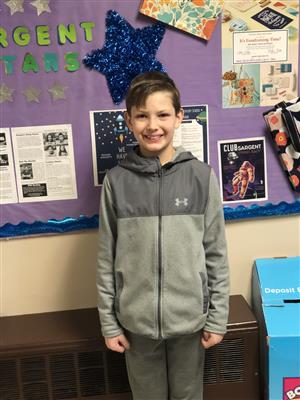 Ayden Gilleo is a Sargent Star in Ms. Sandison and Ms. Antelak's fifth grade class. Ayden's favorite class is Math. "I like Math because it's fun and I learn a lot." Ayden also says about Math, "I want to learn more math because I can get better and better." As a fifth grader, his he likes the privileges that go with being a fifth grader which include "all the field trips and going to Sharpe." He loves Sargent because "everybody helps me to learn better and I have good friends here." Mr. Gilleo is most proud of how far he has come "since Kindergarten to now." Ayden has the highest grades in his class and he enjoys the challenges that come with going from fifth grade to sixth grade. Ms. Sandison says about Ayden, "he is a responsible, kind and compassionate student. He encourages his peers to do their best and will help motivate those who may be struggling. He takes pride in his work and wants others to do the same. Ayden always strives to do well in school. His determination shows when faced with challenging tasks. Ayden is a member of the Chess Club, Band, and the Morning News Program. His hobbies outside of school are riding his bike and hiking up Mt. Beacon.
Employee Recognition - Sandy Martel, District Treasurer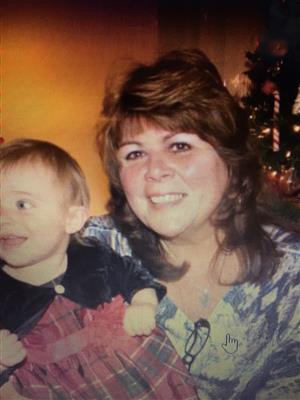 Sandy Martel has been working in our Business Office for over 35 years. In December she retired from her full-time position and we are happy to say that she has agreed to stay on part-time. In her role as School District Treasurer, she has the important job of making sure all the district's accounts are correct and in balance. She has a wealth of knowledge of the district which is a huge asset to all of us that work with her. We wish her well in her retirement and hope that she now has more flexibility to travel and enjoy her grandchildren.