BCSD Superintendent Updates
Superintendent of Schools
Superintendent Blog Post - September 3, 2019
Posted by Victoria Jackson on 9/3/2019
Welcome Back!
We are so excited to get this school year started. I wanted to give you an update on some important summer work that has taken place and how it positively impacts us at the start of the year. We developed a strategic plan last year and I have found myself focusing on the words "Care, Connect, Engage" as a way to summarize our work with the plan. We will be continuously working on ways to increase the power of learning experiences in our district and to also increase the sense of belonging we want all of us to feel. Thanks in advance for partnering with the district to achieve these goals.

Capital Project Update
Our new athletic field behind Beacon High School is complete and students will begin playing on it in the next few weeks. It is beautiful and we can't wait to see our student-athletes in action on it. We will update you soon on the schedule of events on the field so you can check it out as well.
The renovated classrooms at Rombout Middle School have come down to the wire. Work crews have been working all weekend to complete them and they are ready for students. We will still need to finish some plumbing work and electrical work in the rooms but it will be done at night and completed in the next few days. We can't wait for our students to see the new Home and Careers classroom, the new ADL classroom, and the new Science lab.
The one delay we have experienced with this project is with the installation of unit ventilators in about 80 of our classrooms. These unit ventilators are slated to be installed in South Avenue Elementary, Sargent Elementary, and Rombout Middle. The delay occurred because both of the major suppliers of the units have closed factories in the U.S. and have delayed producing and shipping the units as a result. The classrooms are safe without them and they should arrive in the next week or two. When they arrive, they will be installed at night so the instructional day is not disrupted.
I want to personally thank the community for supporting this work. It positively impacted all of our schools and will make a difference in the experience of our young people.
The Summer of Professional Development
We worked strategically with the 19-20 budget to include powerful professional development that supported our different Board/District goals, namely our Excellence, Equity, and Culture of Care goals.
This summer we had:
40 educators attend the Engagement Institute at BHS to learn about increasing higher order thinking and engaging strategies in the classroom.

40 educators attend the Dignity Framework Institute at BHS to learn about ways to build a more inclusive, diverse, and equitable environment for all in our district.

20 educators attend the Responsive Classroom Institute at BHS to learn about an elementary classroom model that builds community and positive behavior through relationships.

2 educators attend the Sustainability Institute to learn about ways to implement a systems thinking approach to our curriculum development.

1 educator attended the Project Lead the Way Institute to be trained in implementing our Computer Science PLTW classwork at the high school.

7 educators attend the Restorative Practices Institute in Poughkeepsie to learn about ways to build a restorative culture in the district.
All of this professional development will help us increase levels of learning and a sense of belonging in our district, schools, and classrooms.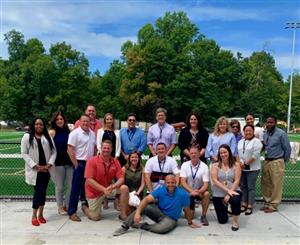 Revised Code of Conduct
Last year our Assistant Superintendent of Curriculum and Student Support Erik Wright worked with different stakeholders in the district to review our Code of Conduct. He developed a short version of it which is on the home page of the District website under the "Our District Tab". I encourage you to read it and discuss it with your child(ren). You will find changes to the dress code making it more gender-neutral and levels of infractions which we believe will bring more clarity to the process.
New Technology at Beacon High School
In the 19-20 budget, we provided for funds to allow Beacon High School to catch up with the rest of the district with technology. Beacon High School will implement a 1:1 Chromebook program with all of its students and all of the classrooms in Beacon High School will have interactive whiteboards. We feel these changes will positively impact the learning experience now for all of our students.
Menus
Here is the elementary menu: https://www.beaconk12.org/Page/1692
Here is the middle school menu: https://www.beaconk12.org/Page/1693
Here is the high school menu: https://www.beaconk12.org/Page/1694
Have a great first day of school!