BCSD Superintendent Updates
Superintendent of Schools
Superintendent Blog Post - April 29, 2020
Posted by Victoria Jackson on 4/29/2020
Superintendent Blog April 29, 2020
#BeaconStrong
One of our elementary students from Sargent, Trey, submitted a picture of BeaconStrong to me this week so I wanted to include it in the blog. It has been a powerful experience for me to be a part of this community during this tremendously difficult time and Trey's artwork was a great reminder for me. Whether it is seeing our staff producing, handing out, and delivering thousands of meals a week, or our teachers and teaching assistants making connections with kids on a daily basis through Distance Learning, our administrators pitching in with support all over the community, or our students accomplishing amazing things during this time, I am reminded on a daily basis how a school district can best serve a community during an unprecedented time in history.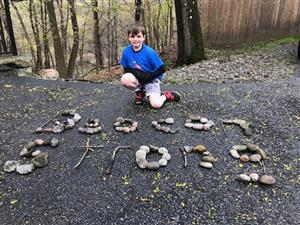 I want to take a moment to thank every person in this community for your support of us during this time. It means a lot. I also want to say that if you need support with something during this time to reach out to your teachers, school principals, or me. You can reach me at landahl.m@beaconk12.org.
Fourth Quarter Grading
We convened a committee of teachers and administrators a few weeks ago to develop guidelines and parameters for fourth-quarter grades. We wanted to create a system that was supportive of students and teachers during this challenging time. At the elementary level, the fourth quarter grades or feedback will be mostly narrative comments with a very reduced report card.
At the secondary level, there will be no final exams, and students will be given flexibility for turning in assignments. We felt strongly that we wanted to keep numeric grades at the secondary level to provide something familiar to students and to allow us to keep using PowerSchool for communication purposes with students and parents. The "floor" or low grade for both Rombout and Beacon High School students who are participating in their classes is 70%. We want students to see the importance of participating in distance learning and turning in assignments and see this as a chance to improve their overall grades. For students struggling to participate, we will do anything in our power to assist with that whether it is helping with wifi in the home or regular check-ins from teachers and administrators to keep you on track.
School principals will communicate more specifics about grading plans by the end of this week.
Waiting to Find out What's Next
Governor Cuomo says he is announcing more information about potential school closures later this week. We will keep you posted.
Budget Update
As many of you are aware, state revenues have decreased significantly and the Governor is planning on reducing state aid to schools significantly. We should be finding out more about Governor Cuomo's plan in the coming days and I will be communicating frequently with the community the month of May about our budget situation.
Pre-K and Kindergarten Registration
Please click below to see instructions on how to register for Pre-K and Kindergarten. Registration starts May 1.
Thanks,
Matt Landahl